Hydrogen Alkaline Water Bottle Maker Hydrogen water generator 260ML/9oz
gosoitwater
The description of product
ADVANCED SPE, PEM TECHNOLOGY: Hydrogen water bottle adopt the most advanced SPE and PEM technology, rapidly electrolyze water into H2 and O2, separate and release H2 and O2, help the ordinary drinking water becomes hydrogen- rich water, and weak alkaline water
SUPER QUALITY AND SAFE AMERICA DUPONT MEMBRANE : GOSOIT Hydrogen water maker adopts America DuPont proton membrane, effectively separate H2 and O2, has srong and one-way gas permeability, high quality and safety.

HIGH BOROSILLICATE GLASS ENDURES HIGH TEMPERATURES:hydrogen water generator Anti-skid embossment cap glass body was fired by high temperature borosilicate glass for insulation ,anti-scalding , BPA free

CURVED ERGONOMIC BOTTLE DESIGN: GOSOIT Hydrogen water Ionizer bottle body is designed to concisely curved ergonomic for convenient taking and carrying, non-slip, anti-drop

260ML/9OZ CUSTOMIZED CAPACITY DESIGN : GOSOIT Hydrogen water maker machine capacity designed to 260ml/9Oz which exactly meet your drinking needs one time, effectively avoid long keeping to cause H2 reducing in case it's left
Hydrogen is a natural antioxidant, and the hydrogen water produced by the hydrogen-rich water cup has a similar effect:
A. Gradually improve the blood sugar and prevent the complications.
B. Improve physical fitness and allergy.
C. Relieve muscle soreness and restore strength.
D. Improve constipation and reduce swelling.
Product features:
Special material: Adopting ionic membrane materials, high hydrogen production concentration, strong permeability, small water molecules, can effectively improve the taste of hydrogen rich water.
2.High concentration hydrogen production: electrolytic production of 800-1200 PPB hydrogen water every time.
3.Appropriate environment: It can be used for outdoor travel, office work and family life and other daily needs.
Product specifications:
Material: food grade ABS,BPA free
Capacity: 260ml 9oz
Dimensions: 2.9*2.9*8 inchs
Weight: 720g
Hydrogen concentration: 800-1200PPB
Battery Capacity: 4000mA
Hydrogen water maker Charge time: 4h-8h (depending on input data voltage and current)
Hydrogen water generator Full electric state can be electrolytic number of times: 3 minutes 50 times
Notice:
1.Clean the hydrogen water bottle before using or placing them for a long time or after the first time. <br>
2.Pure water, mineral water, distilled waters, and warm/cool boiled liquid can be electrolytic, pay attention not to drinks and other beverages, recommended drinking water temperature of 45 ℃.
3.We recommend that drink hydrogen water 6 cups a day.
4. Do not use volatile cleaners, gasoline, metal cleaners and hard cleaners to clean the product, to avoid scratching the product body.
5.If you forget to drink after making bottled mineral water, we recommend that you only repeat the electrolysis.and drink it in an hour.
hydrogen water bottle
hydrogen water generator
hydrogen water maker
hydrogen water bottle
hydrogen water generator
hydrogen water maker
hydrogen water bottle
hydrogen water generator
hydrogen water maker
Tags: wholesale rich hydrogen water bottle, durable hydrogen-enriched tile water bottle, wholesale hydrogen-enriched tile water bottle, hydrogen-enriched tile water bottle
If you want to know more products, we have: water bottle, water filter, water filter bottle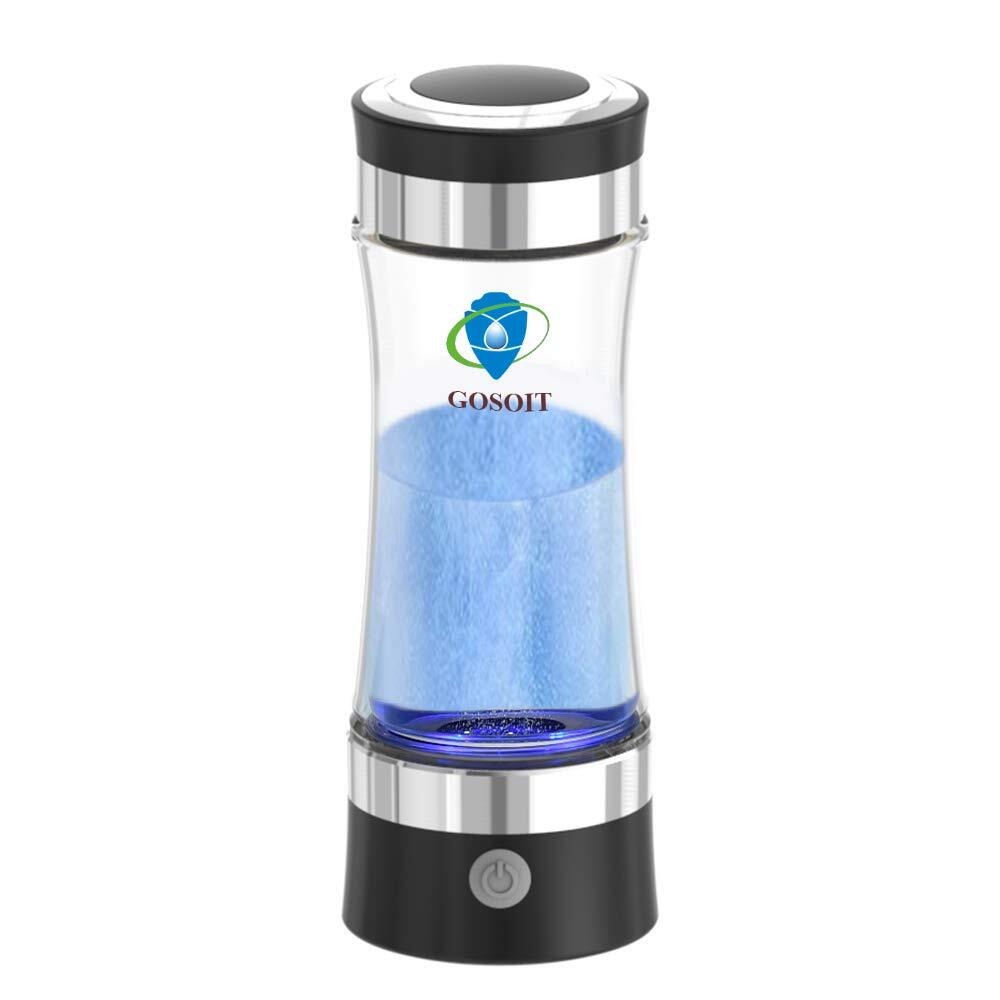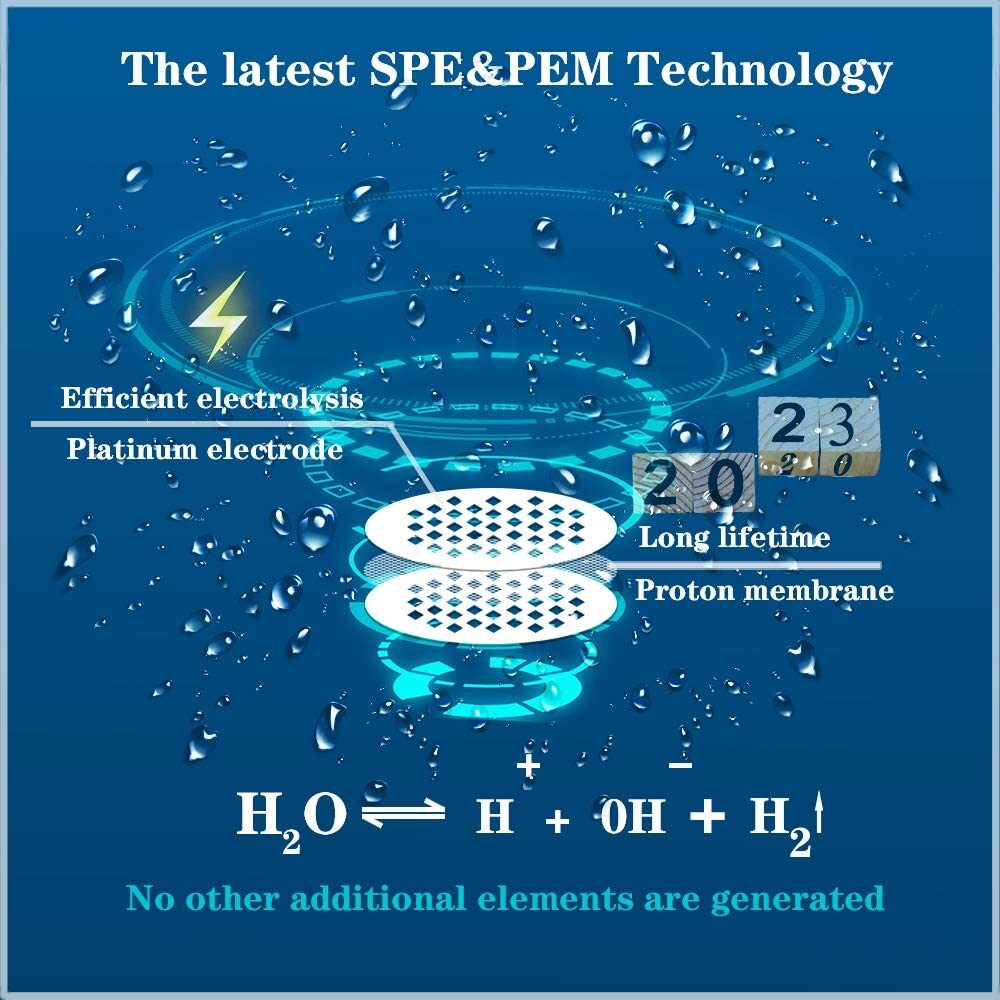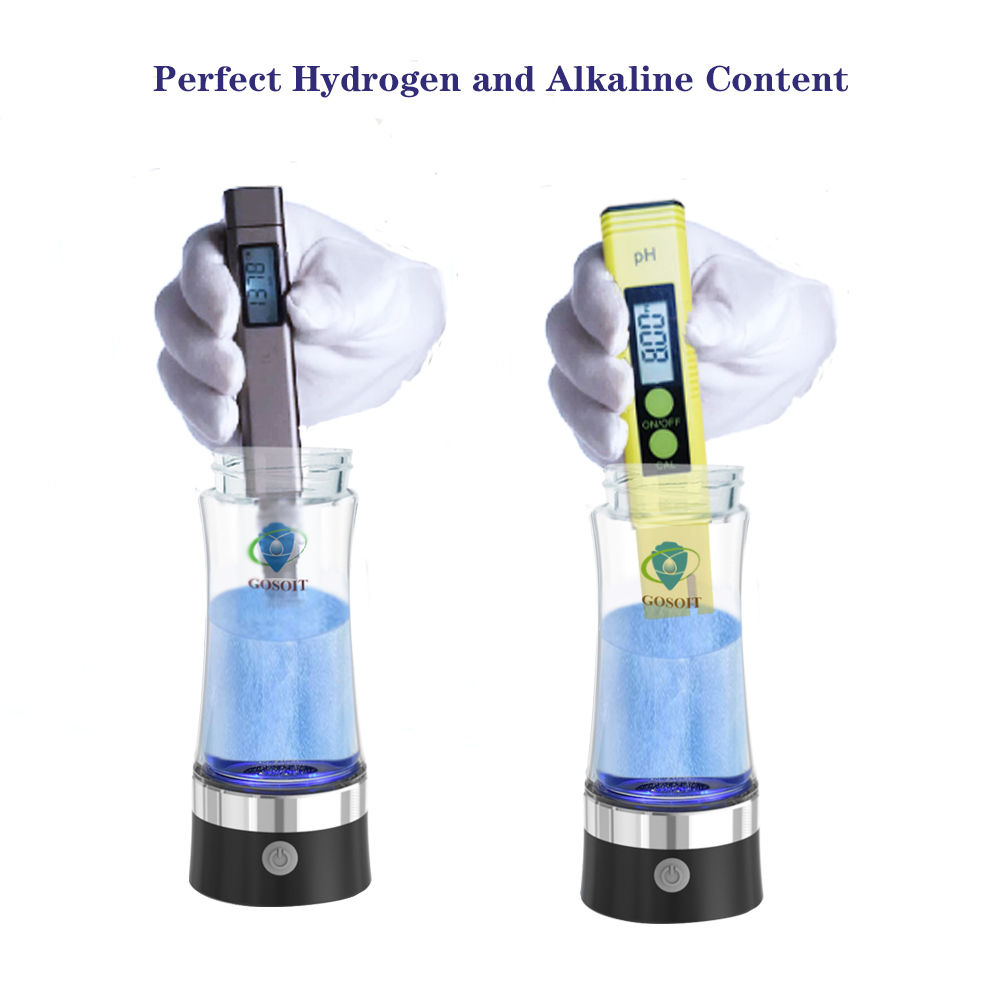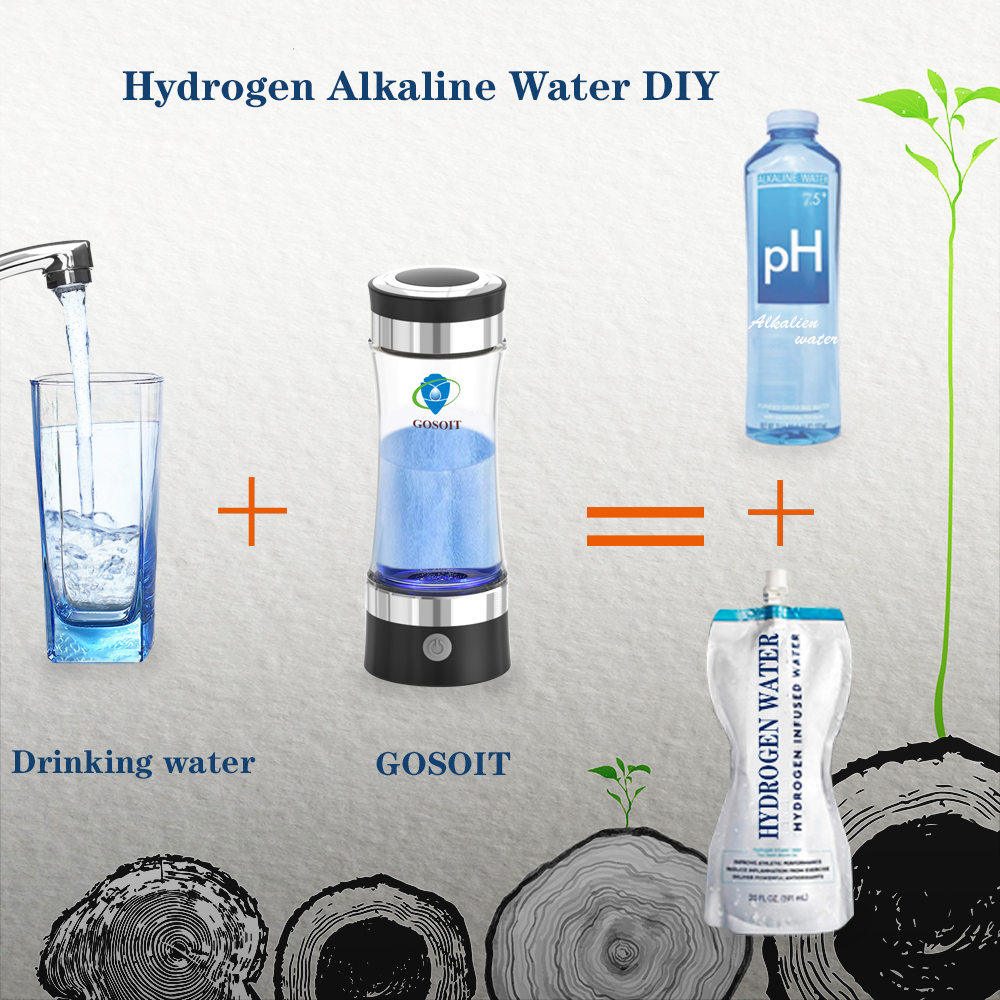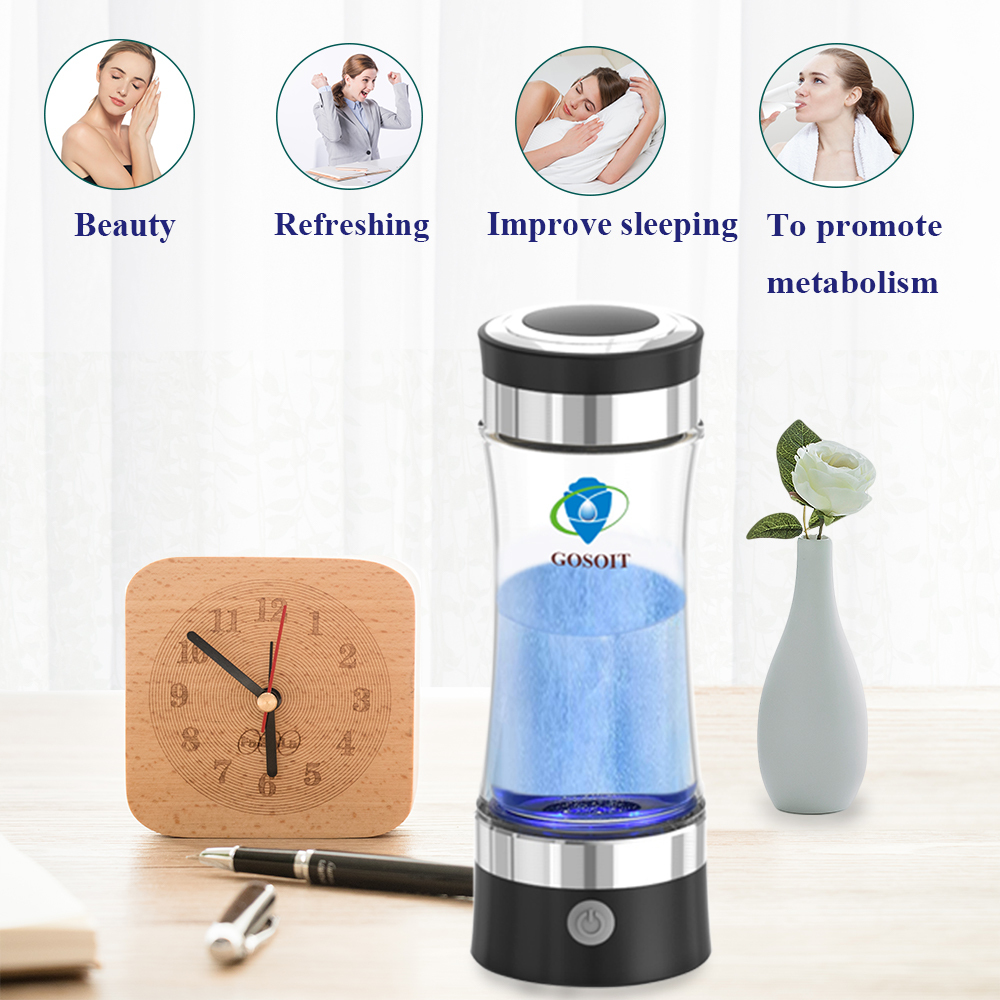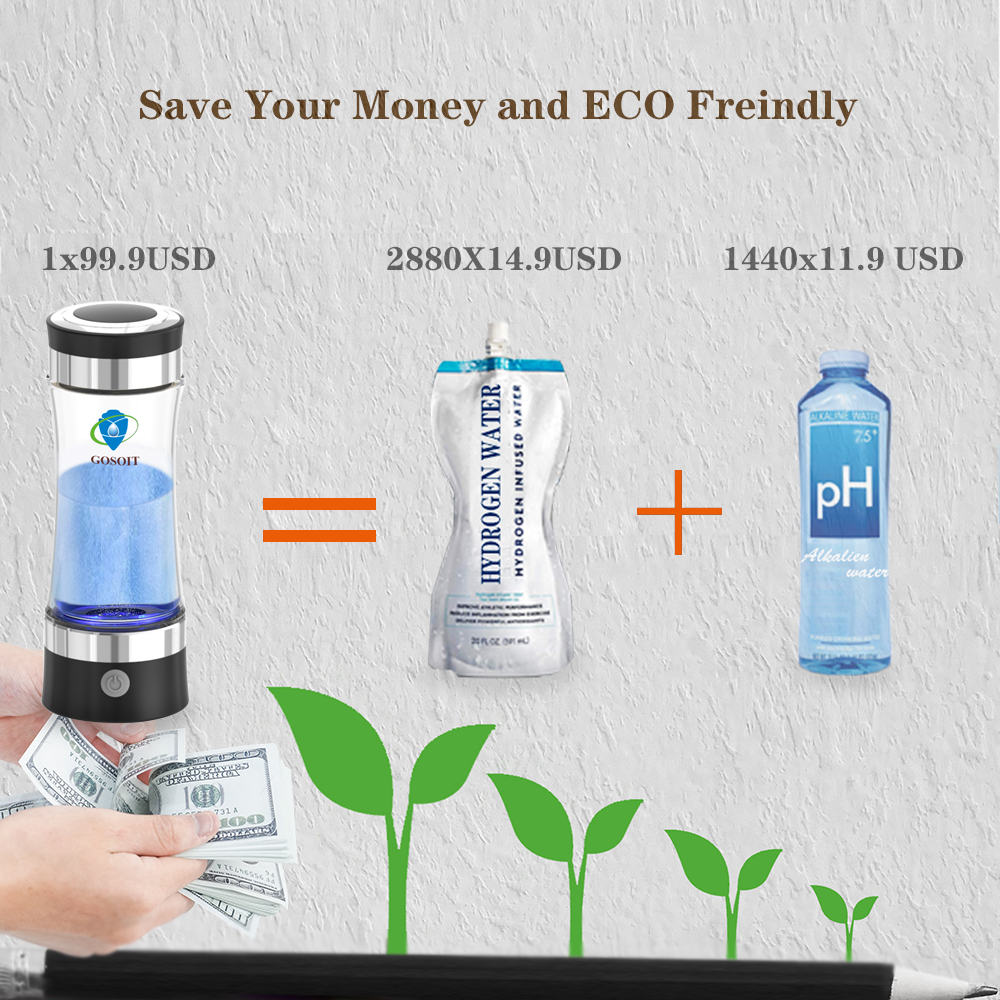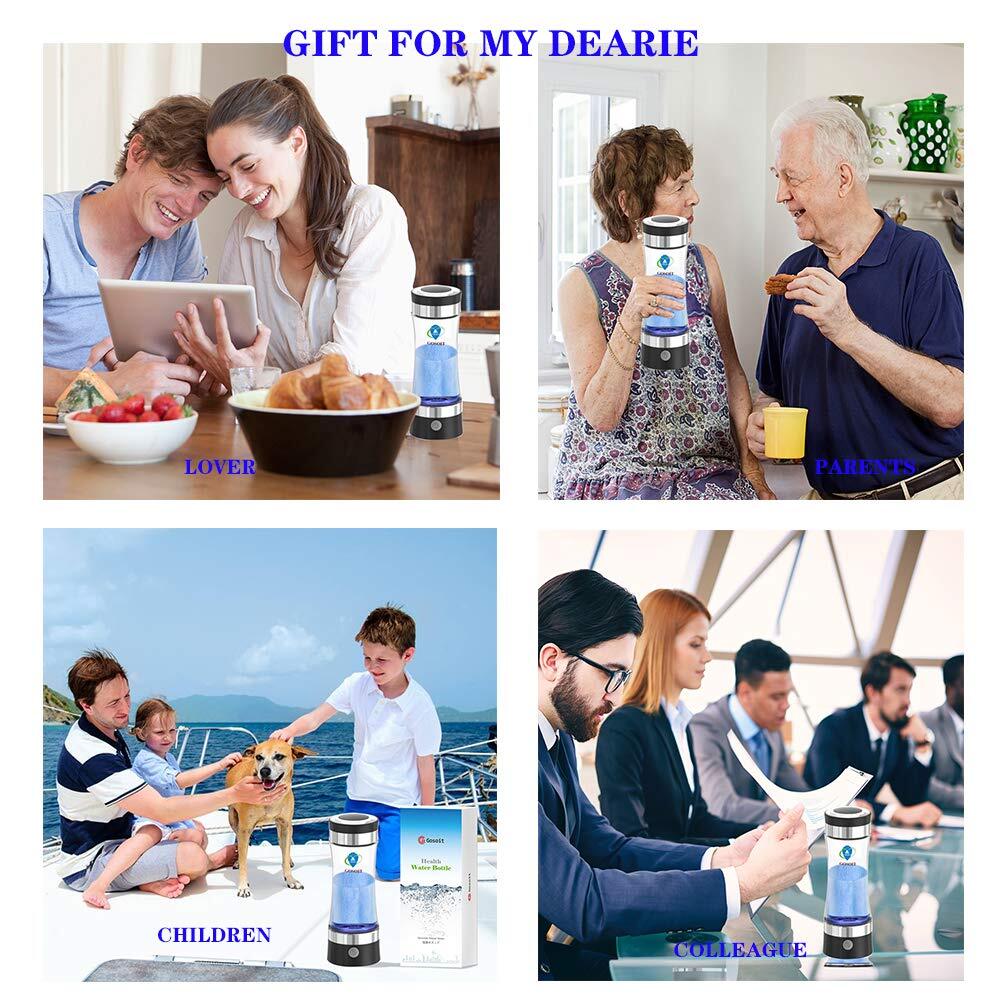 Reviews (2)
ByTessieTuesday, 25 December 2018
I got to know GOSOIT from Google search, and found some knowledge about hydrogen water before purchasing, and I bought it with curiosity to experience, and the bottle doesn't let me down, it's a power-needed working bottle, it took about 3hrs to charge fully and can work about 25times, it's a convenient and portable bottle, and the capacity fits me well, I can bring it to gym, I usually drink two cups of the hydrogen water after fitness and drink about 8 cups every day,I felt very energetic, I will keep drinking it to test the magical effect of hydrogen water, I'll go back here for my further review
ByM. FickettWednesday, 19 December 2018
Great product! Works exactly as described and definitely works better than the Hayashi hydrogen water stick. The thing that impressed me the most though was the packaging. You can definitely tell that a lot of care was put into this beautifully designed product. Buy immediately if you understand the science and its vast benefits!